On Friday February 24, we went along to The Gathering, Glasgow's latest local band night featuring the latest and greatest in Scottish musical talent from around the city.
Run by Greenock promoters and talent agency, B12 Entertainment, this was the fourth such event under 'The Gathering' title - a gig that takes bands that would regularly sell-out smaller pubs and clubs, and puts them on the big stage at larger venues like SWG3.
Episode 4 of The Gathering saw four brand new bands who've came out in the last year play to a sold out crowd at the Warehouse in SWG3. It was a busy night for the venue as Bongo's Bingo was visiting next door - leading to a packed and incredibly mixed smoking area.
That's not to say the gig-goers weren't a mixed bag either, from teenage goths sipping halfs to middle aged men downing pints. The four bands had very disparate styles - which only adds to the appeal if you're open-minded about your music.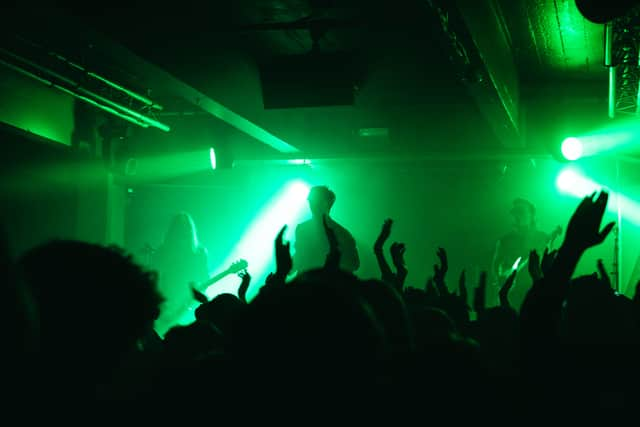 If you're interested in getting into Glasgow's music scene, The Gathering may be one of the best way to do it in 2023. It brings together incredibly different types of sound and crowds into the one room
There's never a dull moment at the show either - at your usual gig line-up you'll see people begin to pile out after the band they've come to see play their set - whether they're heading for the bar or boosting after they've seen their friends play.
B12 put on a live DJ set between the band's sets to keep the crowd's energy up - meaning there's never a quiet moment at the gig, the crowd keeps moving and has barely dwindled by the end of the night.
Four bands played at The Gathering Episode 4 featuring:
Sixpeace, a 6-man-band primarily from Falkirk, have already established quite a name for themselves after only coming on to the Glasgow scene in 2022.
Vigilanti, an east-end band, have a much heavier sound than Sixpeace, playing punchy punk like the Beastie Boys that had the crowd roaring.
The Mirage, a brand-new teenage band from around Greenock, made their debut at SWG3 with a wavy-shoegaze psychedelic sound that had us swaying almost immediately, although the pints could have had something to do with that.
The Insomniacs, another Greenock band, impressed us with their unique indie playing. Certainly a band to watch out for - they supported Kyle Falconer of The View last year, and given their enthusiasm it seems likely they're destined for the big-time.
And in-between sets the momentum was kept up by DJ Maria Woodside.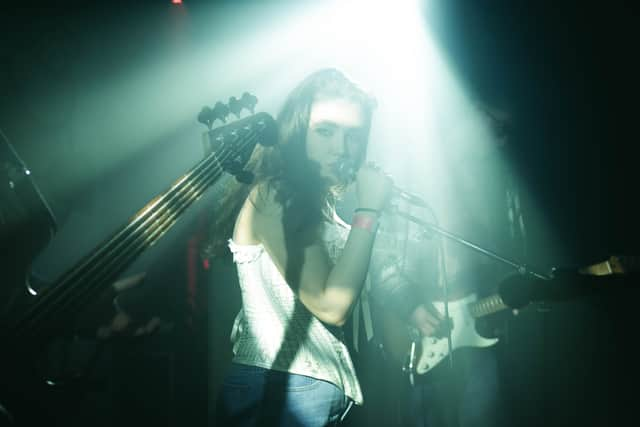 All bands had a lot to offer, we were particularly impressed with their skill, composition, and stage presence (especially Vigilanti) in spite of how young most of the acts were, and how new the bands themselves were.
It was our second time seeing Sixpeace, who played a pretty big set at Tenement Trail back in October of 2022. We really enjoyed them at the downstairs Barrowlands venue, but they sounded even better a few short months later in SWG3.
From what we can 'gather' - The Gathering is an event put on by music fans, for music fans. The promoters that run B12 are young music enthusiasts from Greenock themselves, both in their 20's they run the brand for the love of music, and it shows.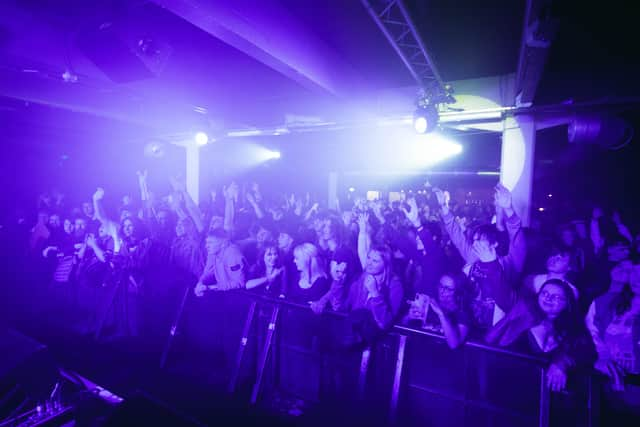 If you're looking to take your first steps into Glasgow's music scene - The Gathering is the gig to go to. Equally, if you want to impress your hipster pals with some brand-new never-before-heard tunes, this is a good start.
The next Gathering gig (Episode 5) will see Ben Walker, Leaving Bordeaux, Adam & The Regents and the Fog Bandits take to the stage at a venue yet to be disclosed on March 31, for updates check the B12 Entertainment website.