SWG3 have announced that Yardworks Festival, one of Europe's biggest and best events dedicated to street art and graffiti, will return on May 5 to May 7 2023.
Now in its fifth year, the festival is a leading showcase of contemporary urban art, and this year will feature the work of more than 100 artists while attracting thousands of attendees across three days of 'colour and creativity.'
Across the three-day event, Scotland's leading multi-disciplinary arts venue will once again transform its inviting outdoors space in the west end of Glasgow into a 'vibrant living canvas'. Some of the biggest names in street art and graffiti will feature at the event, including Jay Kaes, .EPOD, Morf and Aches.
Murals will be created in real-time for audiences to enjoy as part of an 'open air art gallery' - while an array of street food, drinks, art workshops and other activities will also be on offer throughout the weekend.
Visitors at the Yardworks Festival will be able to visit the venues new garden area. Eastvale Place, the street leading down to SWG3, will be closed off to traffic on the festival weekend, allowing guests to watch artists working along the length of the road.
For younger audiences the popular Mini Manoeuvres dance party for children and parents will take place in the Warehouse space, and there will also be face painting and workshops using water-based paint. Inside the Galvanizers, visitors can enjoy the shows from the half pipe and marvel at Mia McGregor's popular Cubes installation, while in the new Yardworks Studio a range of interactive creative workshops for anyone to join in will be held on both Saturday and Sunday.
Since its inaugural edition in 2017, Yardworks Festival has attracted the global elite of the street art and graffiti scenes. The confirmed artist list for the 2023 Yardworks Festival includes:
.EPOD
ACHES
AROE
Box Vincent
Danny Rumbl
Drik The Villain
Easi
EKTO
Etnik
INSANE51
Jay Kaes
KMG
Mak One
Marcamix031
Molly Hankinson
Morf
Philaico Mei
POSEA
Rask
SAIR MAX
Saturno
SledOne
Smug
Ster
TONES
VOID ONE
VOYDER
WOSKERSKI
For local artists, the festival is a chance to learn from the best, meet their heroes, and get inspired by what people are doing on the international scene.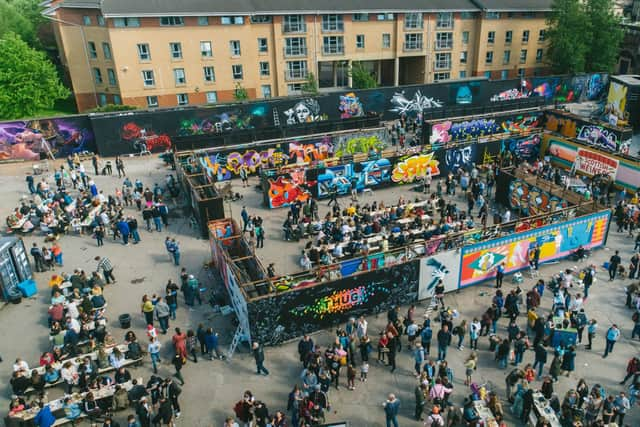 Gary Mackay aka 'Gaz Mac', SWG3 Studio Director and co-founder of Yardworks, said: "We're thrilled to be bringing the festival back in 2023 with another cutting-edge programme that will be sure to delight and entertain audiences of all ages.
"Yardworks has developed into a world-class event that presents an abundance of local and international talent, and is widely regarded as an unmissable weekend for anyone who is a fan of street art, creativity and culture."
The 2023 edition of Yardworks will culminate with a special closing party on Sunday May 7, with further details to be announced shortly.
This year also marks the official launch of the much-anticipated 'Yardworks Studio' at SWG3, a purpose-built space that will provide a co-working space for hundreds of artists, youth and community organisations to work their craft in.
Opening on Friday May 5 with an evening of talks for invited artists and guests, the Yardworks Studio forms part of SWG3's continuously growing arts programme and supports the leading multi-disciplinary arts and events venue's ambitious masterplan: to reshape SWG3 and the surrounding areas into a world-class cultural destination through the creation of a unique street arts district.
Weekend tickets for the street-art festival are priced at £10.00, day tickets at £6.00 with under 16s going free. Tickets are on sale now, and you can grab them from the Yardworks Festival TicketMaster page.