Gun and Sharleen Spiteri of Texas to headline Glasgow music conferencel later this month
Both Gun and Sharleen Spiteri of Texas will top the bill at the RESONATE music industry conference in Glasgow at Platform on November 24
Watch more of our videos on Shots! 
and live on Freeview channel 276
Visit Shots! now
Gun and Sharleen Spiteri of Texas top the bill at Resonate, the Glasgow music industry conference later this month.
The two bands sprang out of the Glasgow circuit at the same time in the 80s, managed by the same label at that point – and now reunite for the first time in decades.
Gun headline the live bill, debuting their new single All Fired Up (out Nov 24) and tunes from the forthcoming new studio album Hombres, while Sharleen is the keynote speaker.
Gun have consistently broken new ground and shaken up traditional ways of working over their lengthy career, so coming on board as stage sponsors for Scotland's music convention Resonate shouldn't be a surprise.
It's just another instance of Gun doing things that bit differently. Under the Cloburn Music umbrella which is the outfit behind Gun's management Morsecode, as well as their recording studio and touring company, Gun want to support what they see as a vital resource in helping grow Scotland's music industry and provide opportunities for emerging talent.
Frontman Dante Gizzi said: "We are super proud to be part of Resonate this year – it's a brilliant event which works hard to create, nourish and grow a music industry here in Scotland so artists, managers and so on can make a career here without having to go to London like back in the day.
"We are excited to perform and be part of an event which is dedicated to supporting emerging talent on and off stage – that's a big part of who we are now. We want to help showcase the incredible talent there is in Scotland.
"And it will be nice to catch up with Sharleen, we haven't seen her in ages!"
Hombres has seen Gun evolve yet again, adding a new full time guitarist Ru Moy of White and Moy fame, and showcasing their dynamic rock sound with huge poppy singalong hooks.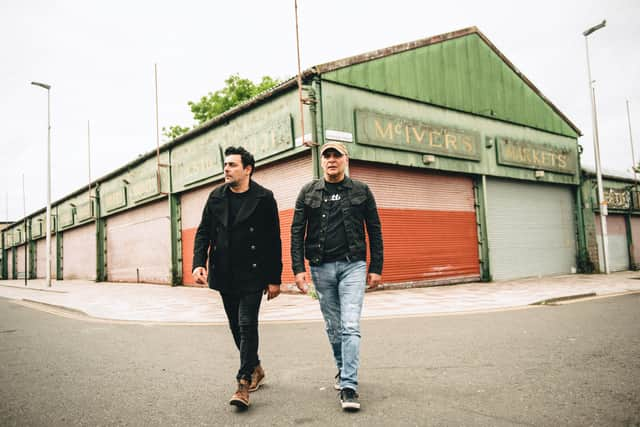 Dante said: "We are proud of the new record and know the fans will love it. We always try to push forward and innovate, it's essential as it's how we keep ourselves passionate and excited about making music after so long together.
"It's important to bring new blood and fresh ideas into the band too and Ru has already added a new dynamic. We can't wait for our December tour but the first chance fans will get to see us play these songs with the new line-up is at Resonate."
RESONATE, Scotland's music conference event for industry professionals, musicians, students, fans and aspiring artists, is an open-to-all event at Platform, Glasgow on Thursday, November 23.
This seventh edition of the event is supported by an incredible array of partners including: BLUE AUDIO, BPI, CPL, EMUBANDS, FUGA, HELP MUSICIANS, KEYCHANGE, MODA, MUSIC SUPPORT, MUSICIANS UNION, NOTTING HILL MUSIC, PIONEER DJ, REBEL LOOP STUDIOS, SENTRIC MUSIC, SAE INSTITUTE, SKIDDLE, STEINBERG, SMIA, TICKETTAILOR and WARM.
Resonate is an annual music conference, run by the team at 23rd Precinct Music, to fast-track learning, connection and creativity through seminars, networking, expert panels and live music.
It is a springboard to prepare Scotland's music industry talent for international growth and features an eclectic mix of speakers including George May [Polydor], Seye Adelekan [Gorillaz], Bjorn Sandberg [Domino], Jamal Chalabi [Yungblood -Tour Manager], Scott Kirkwood [Kingdom], Lauren Andrew [La La] just announced, the impact Resonate continues to have on nurturing and driving talent within and beyond Scotland is undeniable.
As always, Resonate will strive to promote an ethos of collaboration, creativity, accessibility and development to music industry professionals and enthusiasts in Scotland and beyond. The conference is known for its welcoming atmosphere and commitment to providing a safe, accessible space which can be enjoyed by all.
RESONATE makes a return this year to its host venue PLATFORM - they have also announced all Resonate Live showcase artists will receive a tailored mentorship programme, £300 artist fee, £100 travel fee, £500 tailored development fund as well as marketing and promotional content.
This year's RESONATE live showcase winners are The Big Day, neverfine, Rory James, Psweatpants and Queen of Harps.
Platform provides the perfect space for RESONATE's quality and diverse programme which includes panels, workshops, 1-2-1 sessions and ample opportunity for networking. The programme culminates in a specially curated Resonate Live line-up which celebrates the strength and depth of Scotland's musical landscape.
Having cemented itself as a staple event in the national music calendar, RESONATE continues to provide opportunities for collaboration, creativity, accessibility and development. More driven than ever, this conference aims to provide the music community with a programme of exceptionally qualified speakers, exemplary activities and safe spaces for musicians and music industry professionals to speak honestly about challenges and opportunities facing them right now.
Tickets are on sale now - costing £50 for a day pass or £35 for a student pass. The event is set to take place Thursday, November 23 - you can buy tickets here.