The Alchemist is Glasgow's newest cocktail bar, opening on the north west corner of George Square on December 23 2022.
True to its name, the alchemy experience is not only centred on taste, but theatrics too, which is why menu items tend to be served alongside a performance. Not worlds away from a high school science classroom there are Bunsen burners, test tubes, and behind the bar steam emits from colourful drinks as liquids are mixed together.
I came here to meet Greg, a senior bartender who started with the company in 2019 at their Spinningfield branch in Manchester. He moved to Glasgow from Canary Wharf in London at the end of last year to help set up this northern expansion.
Greg showed us how to make the delightfully red Caramelised Jungle Bird, just in time for Valentine's Day. And it's safe to say that sparks were flying.
How to make a Caramelised Jungle Bird:
Start off by chilling a glass with crushed ice
Pour some brown sugar into a pan and heat until caramelised
Flambé the ingredients with grand mariner (this will create a fire)
Add cinnamon and nutmeg to compliment the flavour and ignite the flames
Extinguish with 15 ml of lime juice and 60 ml of pineapple juice
Follow with 10 ml of raspberry syrup
Then add 7 and a half ml of Campari and banana liqueur
22 and a half ml of apple signature rum
Finally, pour the mixture over the crushed ice and garnish with a banana leaf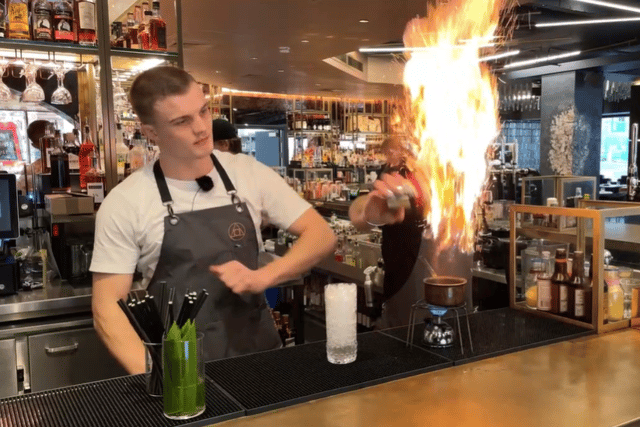 In this bar, cocktails are presented as an art form. It is quite the spectacle to watch and certainly makes the dining experience more interactive with servers.
Open from 10am to midnight seven days a week, the venue caters from brunch to dinner and everything in between. It is the 21st of its kind here in the UK, and the second in Scotland. The first opened in Edinburgh's St James Quarter in October 2021.
The company are also set to test waters outside Britain, as they have acquired their first overseas premise in Berlin.