Historic Environment Scotland has come out in defence of the facade of the former Marks and Spencers shop on Sauchiehall Street - saying that while it's not a listed building, it should still be preserved.
One developer, Fusion Students, is suggesting that the building be reduced to rubble, and then built back up in the form of a 'major mixed-use complex', featuring a large student accomodation facility. Historic Environment Scotland (HES) got involved after Labour MSP for Glasgow, Paul Sweeney, spoke out against the proposed demolition - contacting HES to try and get the building under some form of protection.
Sweeney remains in talks with HES, the developer, and Glasgow City Council over the proposed planning application. HES gave a response to the controversy, sent straight to Glasgow City Council, it reads:"We consider that the 1935/6 building and its 1938 extension at 172-84 Sauchiehall Street contributes positively to the conservation area and advise that this building should be retained and sensitively incorporated into any redevelopment of this site. Façade retention of this building would be acceptable to us.
"172-84 Sauchiehall Street contains no interior features of interest and its roof is concealed behind the parapet. The building is not seen in the round and only its façade contributes to the character of the conservation area.
"We therefore consider that its façade could be incorporated into a new building without diminishing its contribution to the conservation area.
"It would, however, be important to ensure that any replacement building was designed carefully to allow the historic frontage to retain its historic proportions and it character as an individual building."
The popular Marks & Spencer store on Sauchiehall Street closed its doors for the final time in April 2022, with the closure blamed on a change in shopping habits. M&S had been operating out of the unit since the 1930s, and many Glaswegians were upset when the news of its closure was shared.
Mr Sweeney said: "This update and clarification from Historic Environment Scotland, that there should be a presumption against demolition, is warmly welcome.
"The façade of the old M&S unit contributes positively to Sauchiehall Street and is one of the few examples of art deco architecture in the city.
"It should be retained, and I am hopeful the developer will work towards that eventual outcome."
A planning application has still to be submitted.
What is planned for the M&S site?
The proposals would see the creation of a large unit for a new retailer to maintain at street level, as well as recreating the former arcade and providing a publicly accessible connection between Sauchiehall Street and Renfrew Street.
The development is being proposed by student housing developer and operators Fusion Students.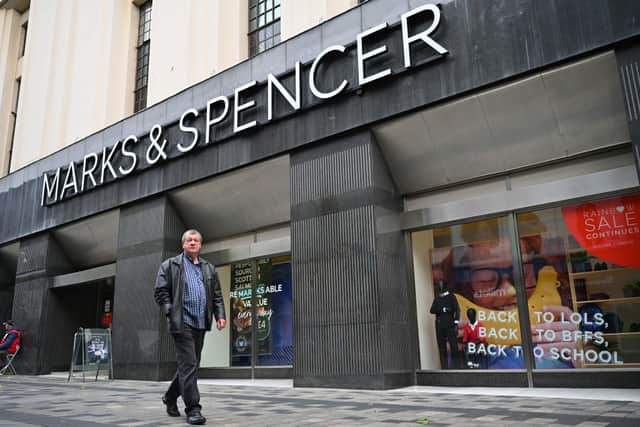 Who are Fusion Students?
A spokesperson for Fusion Students said: "We are excited to be unveiling our proposals for this prominent location on Sauchiehall Street at the former Marks & Spencer site. Glasgow is a first-class university city, with several world-renowned educational institutions which attract students from across the globe.
"The delivery of high-quality accommodation for a growing student population is required to enable the city to maintain its position as an educational powerhouse on the global stage.
"Our studies have shown that there is a significant undersupply of purpose-built student accommodation in the city, with 73 per cent of the city's growing student population unable to access this valuable type of accommodation.
"This shortage often leads students into privately rented accommodation, creating pressure on the local housing market.
"By bringing first-class purpose-built accommodation to the city, coupled with carefully thought-out public realm spaces and new retail units, we believe our proposals will enhance this historic street in the heart of Glasgow city centre."