Review: The Soup Dragons and The Vaselines in Glasgow - what year is it anyway?
We went to see The Vaselines and The Soup Dragons perform at SWG3 this week on Thursday, November 2, 2023
Watch more of our videos on Shots! 
and live on Freeview channel 276
Visit Shots! now
Last Thursday (November 2) we saw the Soup Dragons and The Vaselines live at the same venue - yes you read that right.
No it's not 1989 again, though you'd be forgiven for thinking that, between this line-up, Teenage Fanclub playing Tramway tonight (November 5), and the BMX Bandits playing the Hug & Pint next month (December 2).
To be clear, these bands formed long before I was born at the turn of the millennium, but before you click off or leave an angry comment - let it be known that I love these bands.
And I'm not the only one, I fully expected Galvanizers Yard to be filled with old guys - but there was actually a pretty balanced mix of gender and age groups. Some folks in their 20's, couples, parents bringing along their teenagers, and of course there were the groups of middle-aged men reliving their glory days.
This was something recognised by the bands right away - they knew exactly who they were playing to. As soon as The Vaseline's came on to support, one of the first things Frances McKee said was along the lines of "You might all be a bit old to dance by now, but listen to this."
Later in the set she remarked "You all look miserable!" to which some fella behind me cleaning the steam of his glasses shouted back: "It's 'cos we're old!".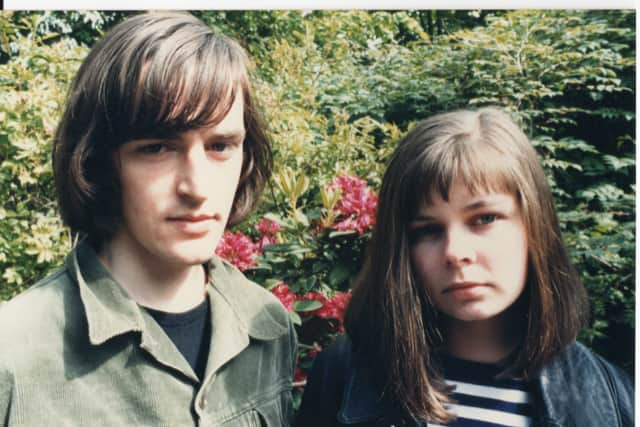 I had a chuckle at that, sure it wasn't a very high energy crowd but what could you expect? I thought the crowd was one of the friendliest I've been in, and there wasn't a dour face to be seen.
If I'm not example enough, along with some of the younger faces in the crowd, the music of the Bellshill Scene - Teenage Fanclub, BMX Bandits, Soup Dragons, The Vaselines, etc (of whom many of the original members could be spotted in the crowd) - extends far beyond the post-industrial generation of the 80's and early 90's.
While they never reached the mass-market appeal of their later contemporaries down in England like the Stone Roses, Blur or Oasis - or in America like Nirvana - they have attained a huge cult following in the years since alongside the almost universal respect they've always had from their fellows in the music industry.
Growing up in Lanarkshire these guys were legends, no band from any town in North Lanarkshire has ever reached the heights like these guys have - despite some incredible musical talent influenced by the culture the Bellshill scene left behind. One only needs to look at modern Lanarkshire indie bands like Bandit Country, And the Bandages, or Cloth to see that.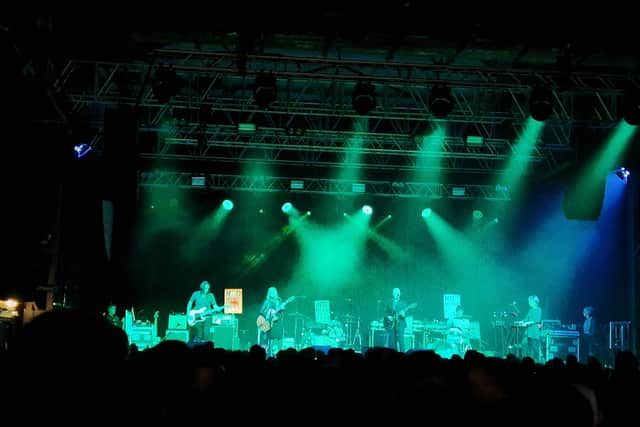 Speaking just before The Vaselines favourite song, Frankie spoke about when the Soup Dragons first asked them to support them at SWG3, she said:" Our initial reaction was f*** off (in a good way), but I'm really glad we did it."
Eugene picked up:"Thank you to the Soup Dragons for having us tonight, we go way back, and we love them."
He began to play the opening riff of 'Son of a Gun', their final song of the night, before stopping and adding:"Sorry I got a bit emotional there, I'm usually a robot."
The crowd laughed as he went back into the riff for Son of a Gun - which was the highlight of the night for me. Seeing The Vaseline's play Molly's Lips, Jesus Wants Me For A Sunbeam, and Son of a Gun (all of which were famously covered by Nirvana) was worth the price of admission alone for me.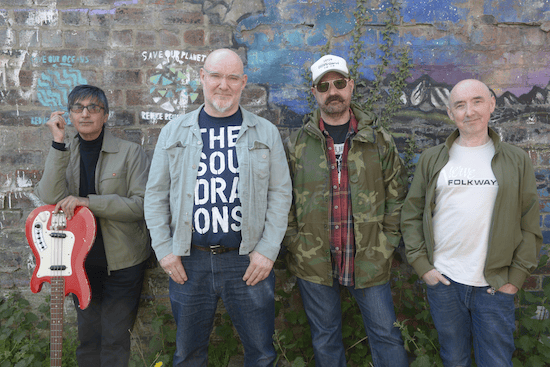 The Soup Dragons came on stage looking as cool as ever - admittedly I was never as into the Soup Dragons as the rest of the Bellshill Scene, I preferred the unique Scottish indie sound as compared to the early Acid House stuff, so of course take my opinions with a pinch of salt.
That's not to say I wasn't excited to see them, quite the opposite in fact. I never thought I would get the chance to see these bands live - a sentiment that was shared with the rest of the audience, who hadn't seen these bands play a live gig since the Thatcher era.
As I mentioned earlier, the bands knew exactly who they were playing to - their cult status had earned them a loyal following who viewed the band as legendary. They were here for more than just the tunes, they were here for the heritage and the culture.
The whole gig had a very conversational tone - like they were meeting an old friend - taking time in between the set-list to expand on their tour, how it feels to be back, and of course stories from the good old days.
From the band starting up from a notice in McCormack's Music Shop to meeting Brian Eno to recording their John Peel sessions - the gig really was a love-letter to the life-long fans of the band, something I couldn't help but respect.
The Soup Dragons are well and truly back, Sean Dickson expressed his own shock at the start of his set, saying to the crowd:"Here's our new single, never thought I'd say that, the Soup Dragons have a new single."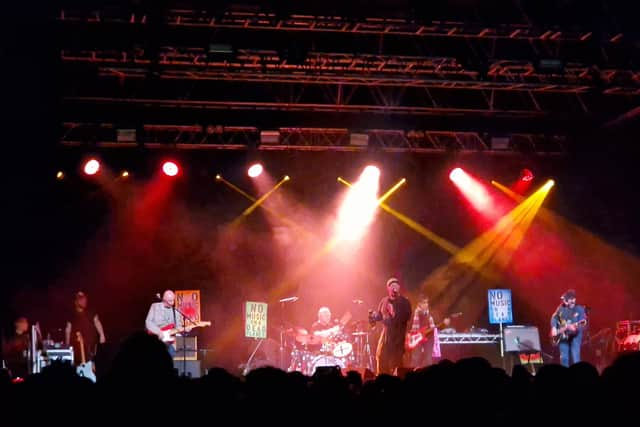 It was clear to me at this point that this was more than just a nostalgia band, because the crowd loved the new single, they went wild for it - or as wild as folk in their 40's and 50's get.
My favourite section of The Soup Dragons set had to be the mid-section in which Sean Dickson played a Patrick Cowley inspired cowbell interlude, I thought that was great craic.
While watching The Vaselines I had to say I really warmed up to them, feeling they got better song after song - while with the Soup Dragons it came and went and came back again.
After two weeks of tour, and barely recovering from a cold, Sean Dickson's voice wavered at points, particularly on high or drawn-out notes in songs like Softly or Head Gone Astray. No one in the audience from what I could tell seemed that fussed though, each song (regardless if it was new or old) was met with a massive round of applause and cheers from the crowd.
That's not to say that their musical ability wasn't clearly on show either - it's clear these guys are on the top of their game, after nearly 40 years of playing music professionally, they sound sonically amazing. Every note is hit from every artist, and the sound is just incredible.
The highlights of the night with the Soup Dragons had to be Diving Things, and of course I'm Free, their Rolling Stones cover which shot them to relative stardom for a local band.
The Soup Dragons closed out their gig speaking about their partnership with Music Declares Emergency, a musical climate change initiative, in which they brought out the bandmates' teenage children on-stage to play alongside them.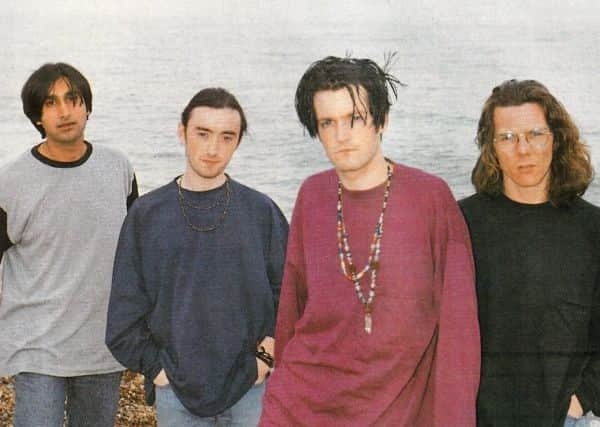 It was a nice sentiment, which Sean expressed as:"Tonight you're all going to be 18 again, there's no music on a dead planet!".
Seeing the Soup Dragons in 2023 I'm reminded of seeing the Stone Roses last gig at Hampden Park in the summer of 2017.
Like the Soup Dragons, the band had a massive cult following, and like the Soup Dragons, Ian Brown's voice wasn't what it was.
Unlike the Stone Roses, this is far from the Soup Dragon's final gig, and unlike the Stone Roses, Sean's voice will come back, while Ian Brown's voice was never up to much in the first place.
Getting to see the Soup Dragons and The Vaselines was incredible, we're seeing a Scottish Indie retro renaissance in Glasgow right now between this, the upcoming Teenage Fanclub gig, Gun playing at Reonate Awards later this month and of course BMX Bandits next month. Long may it continue.