Some of Scotland's finest restaurants are celebrating national recognition after being named among the UK's top 100.
As other award ceremonies start to take place, we take a look at a few of the top places to eat in and around the city that have gained accolades in the past - proving that Glasgow and the surrounding areas provide a superior level of food.
Inver
Located in Argyll and Bute, this characterful restaurant offers a contemporary take on traditional Scottish food.
About an hour and a half drive from Glasgow, the restaurant co-owned by chef Pamela Brunton and her partner Rob Latimer, offers beautiful views on the shores of Loch Fyne and exquisite locally sourced cuisine.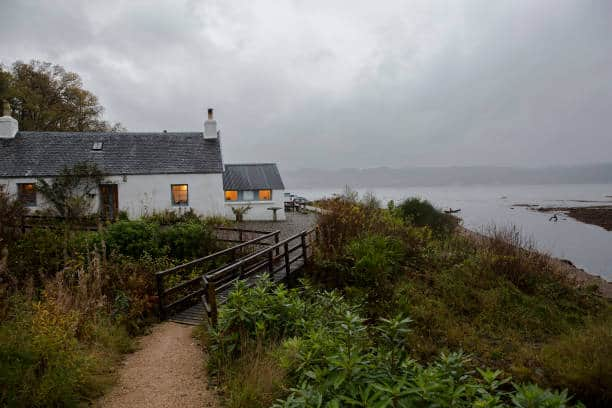 Inver was awarded the Best Restaurant in Scotland at the 2022 National Restaurant Awards, and was also one of the first ever to achieve a green Michelin star for their sustainability efforts in maintaining the ecosystem around their cosy eatery.
With a vast array of choices on the menus, locals and visitors alike will enjoy dining here.
Cail Bruich
Five years ago, this Glasgow-based restaurant was a fairly run-of-the-mill Scottish bistro, but after a major renovation, it is now one of the very best in the city.
Cail Bruich became the first restaurant in Glasgow to land a Michelin star in 18 years in 2021 for its attention to detail and excellent customer service.
Found on Great Western Road, diners can expect the very best fish, game, meat or vegetable options, some of which come from the restaurant's own garden.
Unalome by Graeme Cheevers
Just eight months after opening, this fine dining restaurant received a Michelin star in the 2022 guide for its outstanding cooking and quality of dishes.
Native chef Graeme Cheevers bases his food on inspiration from Japanese cuisine and French cooking techniques to create an ever-changing menu.
The Buddhist name Unalome represents Chef Cheevers returning to his home in Glasgow with this restaurant, after venturing on a culinary journey to Singapore and New York.
Restaurant Andrew Fairlie
The late Scottish chef Andrew Fairlie will be remembered by his restaurant based in the heart of Gleneagles, which is the only one to have two Michelin stars in Scotland.
The award-winning chef passed away in 2019, yet according to the Andrew Fairlie website, guests can still expect a meal experience that lingers long in the memory after leaving the sumptuous setting.
No visit would be complete without trying Restaurant Andrew Fairlie's Home Smoked Scottish Lobster with Lime and Herb Butter.
Ox and Finch
Named as the best restaurant in Glasgow in 2019, diners are offered a wealth of modern small plates, tapas style.
The trendy, high-ceilinged venue has an acclaimed team of Jonathon McDonald, head chef Daniel Spurr and FOH Andy Macsween, offering expertise and taste to Glaswegians.
Despite missing out on a Michelin star, the restaurant maintained its Big Gourmand in the 2020 guide.
Ondine Oyster and Grill
This award-winning Edinburgh restaurant is worth the small trek for its delicious and sustainable seafood taken from the East Coast of Scotland.
Noted in the Estrella Damm National Restaurant Awards at number 84, and winning Best Scottish Restaurant three times, chef Roy Brett made it an institution in the country's capital.
Brett describes his Edinburgh flagship as one of 'proper seafood' and it is hard to argue with him after experiencing the fresh fish mixed with international flavours.
Julie's Kopitiam
Uber Eats Best in UK and Ireland awards are fast approaching and one of Glasgow's best is going against the rest after being shortlisted.
The small and humble restaurant offers delicious Malaysian and South East Asian street food, with diners able to watch the chefs prepare the meal in an open kitchen.
Despite national recognition, diners can expect good value dishes which are bright and flavoursome, and are presented with cheerful service.
The Gannet
According to TimeOut, The Gannet should be on every Glaswegian foodie's bucket list, supported by its previous share of Scottish accolades.
The fine-dining restaurant on the Argyll Street strip in Finnieston promises contemporary Scottish cuisine surrounded by a Brooklyn-chic interior.
Owned by chefs Peter McKenna and Ivan Stein, the hip eatery scooped a Bib Gourmand award for quality dining at moderate prices less than a year after opening, cementing the thought that sometimes less is more.
Ubiquitous Chip
This family-run restaurant boasts two AA Rosettes and allows visitors to get lost in its warrenlike environment, with several bars and dining areas on offer.
It has remained a go-to place to splash out on some tasty dishes since it first opened in 1971, as the menu allows you to raid a Scottish larder with style.
From venison haggis to Isle of Gigha halibut, you can enjoy the rich tastes surrounded by ponds, fountains and plenty of greenery, all within the confines of Glasgow's west end.
Ka Pao
This popular west end restaurant opened in 2020 as a sister eatery to Ox and Finch and in 2022 gained a Bib Gourmand in the Michelin Guide.
Bib Gourmands are awarded to restaurants offering particularly good quality, good value cooking. Among these 16 places, three were already recommended in the Guide, while 13 are brand new additions for 2022.
Ka Pao - named after the Thai word for holy basil - offers modern dishes filled with south-east Asian flavours, and is located in the historic category A-listed Botanic Gardens Garage on Vinicombe Street.