Barrhead man in Spanish prison band breaks through on Spanish Radio 30 years after setting up the band
Now the Weegie who spent time in Spanish jail is looking to get the gang back together 30 years later
Watch more of our videos on Shots! 
and live on Freeview channel 276
Visit Shots! now
An ex-inmate of a Spanish prison from Glasgow has been plunged back into the world of fame after a radio station in Spain played a set of his jailhouse bands song on the radio last year.
Allan McCarthy, 59, from Barrhead, travelled to Spain in 1984 at the age of just 21 intending to take a break. He fell in with the wrong crowd and ended up staying a lot longer thanks to the Spanish prison service - leaving the country just in time for his 30th. Prior to his incarceration and travels in Spain - the soon-to-be rockstar was a student at Glasgow Caledonian University while it was still Glasgow Tech College.
While studying at the College, the artist stayed in student accomodation in Red Road Flats - when locals asked how he managed to survive his time 'inside' Allan would reply' 'I've already done two in Red Road'. Working for a while as an Entertainments Manager for some of Glasgows more upmarket clubs at the time, then-student Allan organised a few of Glasgow's first club nights before getting fed up and moving to Spain. It was there he misguidedly got involved with drug trafficking and bagged himself a six and a half year sentence for drug trafficking.
It was in Sangonera prison in the Murcia region of Spain that Allan set up Berlin 90 with fellow inmates back in the 90's. Prison staff had set up a music workshop, and Allan gave it his all, impressing the staff of the Spanish prison. They were able to record and submit a demo to a battle of the bands contest set up by local radio station 'Onda Regiona'.
I went to Caledonian when it was still "Glasgow Tech".When Glaswegians ask how I survived "inside" I reply "I´ve already done two in Red Road".The council made them student flats for the Tech.I started on the door at student functions. Soon I was Social Secretary / Entertainments Manager, working some nights at Glasgow´s "posher" clubs.Before Spain early 80´s I ran some of the first club nights.
Allan told SUR in English, a Spanish news outlet for English audiences, the following:"It was funny, because the prison had really backed us because it gave the establishment credibility, and they believed it would demonstrate how they had rehabilitated these criminals. But, when we were asked to go to record the track, the authorities were backed into a corner and could not refuse,"
Impressed by their talent, prison chiefs gave the band members day release to record some of their tracks in a local studio. It was one of these songs, Stormy Waters, that was chosen to appear on a compilation album alongside other established bands in the region.
The band were fully backed by the prison service, with a rehearsal space and instruments. Things were looking up for the incarcerated rock stars, earning the title 'The Bad Boys of Rock' after the success of Stormy Waters on the local radio. The Spanish media latched onto the story, and all things considered, things were going pretty well for Berlin 30 - they were given day release to participate in an interview with Onda Regiona, the local radio station, and a few weeks later, given day release again to perform a concert in Murcia.
However, in a cruel twist of fate, the band were forced to split up when Allan was transferred to the Carabanchel prison in Madrid - losing all contact with his fellow band mates.
The 59-year-old Glaswegian's six-year stint in a Spanish jail came after he had begun to mix in the wrong circles when first arriving in the country in 1984. He told SUR in English: "After leaving university, I came over to Spain for a break and ended up staying on the Costa del Sol for a few years. I began mixing with people that were not from my walk of life, but I was young at the time. I came over just after my 21st birthday and was back in Glasgow just in time for my 30th,"
Allan headed back to Scotland on his release from prison, where his life took another unexpected turn. He continued: "My sister had had a child that I had never met - my nephew. Unfortunately, she had a mental breakdown and I ended up bringing the child up, so that kept me out of mischief,"
In the years that followed, Allan raised his nephew while forging a career in magazine publishing, working on publications like the Scotch Whiskey Association and The Scottish Personal Health magazines, along with The UK Schools Directory, the official publication of the bicentenary of the Battle of Waterloo, and most bizarrely of all, The Beat Goes On, a magazine promoting police recruitment.
Allan was banned from Spain for 10 years following his six and a half year stint in the cells - but despite all this, the Barrhead man made the decision to return to the country after his retirement, now as a free man legally allowed to reside in the country. Allan has a girlfriend in Murcia now, who he spends most of his time with along with her family.
After a while spent in Spain, Allan made contact with Onda Regiona radio DJ, Ángel Sopena, to ask for his help in locating his old band mates. The DJ had continued to present his radio show, Música de Contrabando, which celebrated its 30th anniversary in 2021, and one of the bands he continuously played on his show was Allan's band, Berlin 90.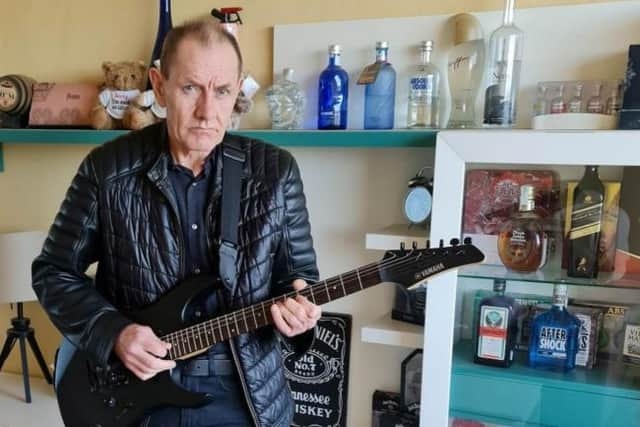 Allan told SUR:"At the time, Ángel was giving interviews about his radio programme because it had been running for 30 years. He said in every interview that one of the best memories he has from his career was the story of Berlin 90.
"This guy has met Bowie, The Stones and many other top names, but he said the one thing that sticks out is the prison band he was involved with at the beginning," Allan declares."
Unfortunately, Allan was to learn that one of the old band members had died, one had returned to Madrid and had disappeared from the scene, and the drummer, who was French, had returned to France. Allan says that if he cannot reform the original band, he intends to start a new version of Berlin 90, whose music is back on the radio thanks to Ángel Sopena.
Allan also expressed an interest in returning to the prison he spent time in to do a concert for the inmates - this time as a free man.